Offshore Development

We view EXCEL Brothers as an extension of our own company rather than merely a contract resource. Thanh's team have exceptional knowledge of ASP.NET and web programming in general and most importantly they deliver good applications, on time and to budget. I wouldn't hesitate to recommend EXCEL Brothers for any web application work.

Dave Glynn - Technical Director
Atomic Web Solutions - United Kingdom
Our Process Is Simple And Effective
We hold your hand through the entire process and ensure a quality outcome.
Simplicity Works! We take the fluff out of development and simply create solutions to your business needs. With our careful controls and checkpoints, most every site that we develop is completed on time and to the complete satisfaction of our client. Every site we build is on a flexible platform so it can grow and change with your business. Following is a brief outline of the process we follow: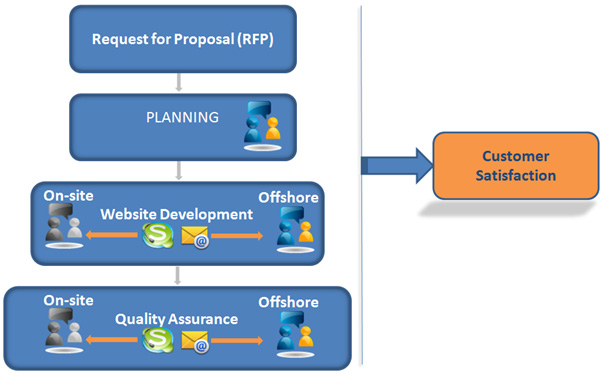 Phase I – PLANNING
The first phase of your Website project is information gathering and research. We make a Specification Document to serve as a blue print for development. Once we enter into an Agreement, we will proceed with Phase II.
Phase II – DESIGN
We create custom, professionally designed mock-ups of the homepage and sub-page(s) to determine the look and feel. The goal of this phase is for you to select the comp that is closest to what you had in mind. In extremely rare cases, additional comps are required and can be provided for an extra fee. After edits are completed and you have approved them, we move forward to the next phase.
Phase III – WEBSITE DEVELOPMENT
Front-end coding is done in HTML/CSS. Any flash motion graphics and/or back-end database work is started should it be required. The site will be temporarily hosted on our/your servers and available for you to view. Throughout the development process, you are able to see the progress, request any minor changes you might like and we'll hold your hand through the entire process, and give suggestions to enhance the end result.
Phase IV – QUALITY ASSURANCE
Our work is fully tested for quality assurance and we take care of all the technicalities in taking it live. You can read more details on our quality assurance process
Phase V – DEPLOYMENT
One last approval from you and we are ready to launch your Website. We will make the site live on your hosting space for the entire world to see!