Offshore Development

I have used EXCEL Brothers for nearly two years and have been very satisfied with their work. I'm developing a complex business application using the full spectrum of Microsoft technologies, and EXCEL Brothers has been able to handle all aspects of this development, including graphic design, html, C#/.NET, and SQL server stored procedures. In addition, they are very easy to work with and responsive to my needs. I can recommend them without hesitation as a great resource for cost effective software development...

John L.
CTO and System Architect
Offshore Development
Offshore Software Development Methodology is of prime importance in order to successfully implement the Offshore Outsourcing strategy and reap the benefits of Offshore Software Development in terms of cost effectiveness and business flexibility.
The Offshore Software Development process generally commences at the customer's site. A team of system and software analysts led by a Project Manager carry out the initial requirements definition and analysis in consultation with the customer. The design, development, and testing phases are carried out at the EXCEL Brothers offshore development center.
Below is EXCEL Brothers's model in offshore Development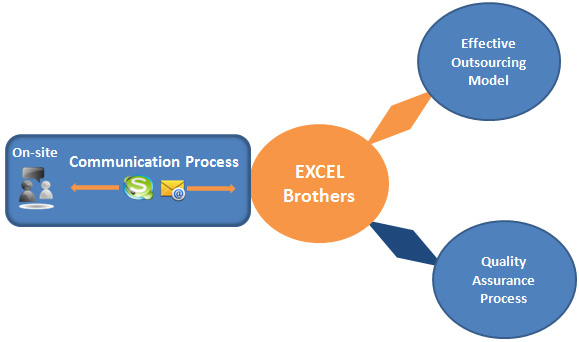 In our offshore development model, We believe that effective communication between the client and us is a key element in the successful execution of an offshore software development project. if required, we also place a few members of our team onsite at the client's location to better facilitate in understanding the environment, requirements and ease the communication process. We make best and sincere efforts to maximize the coherence between the Offshore Development Centre (ODC) and our client.
Working with EXCEL Brothers, you will have competent solutions in the fields of Web Application Development, offshore website development, Custom Application Development, and application integration spanning a range of industries including financial services, banking, ecommerce, healthcare and web design. Hence, we provide cost effective solutions that address our client's overall software development requirements and give value to their product's scope.